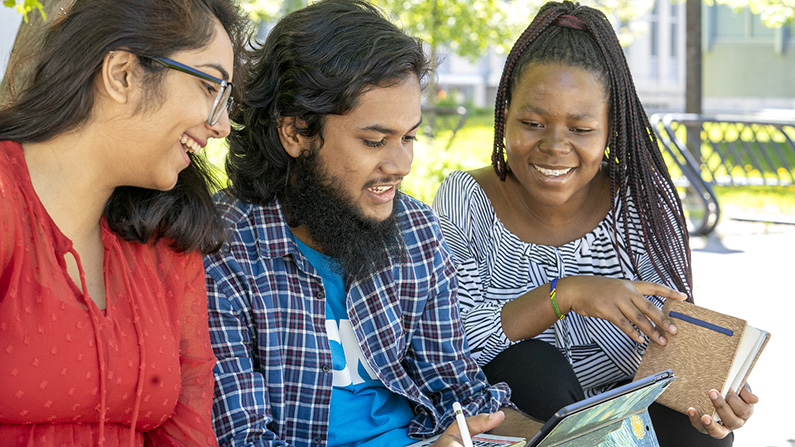 What is guard.me?
guard.me is among the world's largest health and travel insurance providers in international education which provides students at ULethbridge International College Calgary with their primary medical coverage for the first semester while they wait for their AHCIP as well as their secondary coverage for additional semesters.
Your guard.me More plan provides both primary coverage for hospital and doctor visits, similar to AHCIP, however it also offers secondary coverage for medical expenses that may not be covered by AHCIP, such as prescriptions, psychological counselling, and other paramedical services.
Students who have not traveled to Canada will have the option to opt out of their guard.me More plan (primary coverage) until they have arrived in Canada. Students who are currently in Canada will be enrolled in guard.me More plan (primary coverage) for their first semester while they apply for AHCIP coverage. Students will be charged for the guard.me Plus plan (secondary coverage) starting from their second semester in Canada.
guard.me also has several fantastic resources to connect you to support for both your physical and mental health and well-being:
guard.me portal
You can access your guard.me insurance information through the guard.me portal. Through the portal, you can find clinics, submit claims, access the My SSP 24/7 counselling services, and the mobile doctor service.
guard.me mobile doctor
guard.me Mobile Doctor is a convenient way to connect with a medical practitioner online without having to leave your home. Through Mobile Doctor, you can describe your symptoms and receive recommendations or prescriptions for your ailments.
My SSP
The My SSP App offers counselling support 24/7 in multiple languages. This is a great resource if you are experiencing any mental health concerns.
Important:
You will be unable to finalize your enrolment if you have less than the minimum balance including the extension for guard.me in your account unless you opt out prior to your enrolment date. Please be sure to opt out before your enrolment begins if this is the case.
WHAT IS AHCIP (Alberta Health Care Insurance Plan)?
Alberta Health Care Insurance Plan (AHCIP) is Alberta's provincial health insurance plan. Students who have a 12-month study permit (valid for an Alberta educational institute) and who will reside in Alberta for 12 months or more are eligible for AHCIP coverage and should apply. AHCIP provides primary medical coverage such as:
• services provided by a doctor
• X-rays, lab tests (as required by a doctor)
• emergency dental and oral surgery in hospital
However, since AHCIP does not cover a variety of medical services, such as dental services, routine eye exams, eyeglasses, prescription drugs, and counselling, UICC students are required to have secondary coverage as well.
Why do I need AHCIP?
AHCIP covers the cost of basic medical care within Canada, including most physician and hospital services. In most cases, you will not have to pay at the time you seek medical care when you show your Alberta Health Care Card. For a full list of your medical and health care benefits, visit the AHCIP website.
When do I need AHCIP?
You can apply for AHCIP as soon as you arrive in Alberta. There is a three-month waiting period before AHCIP coverage begins. It is free of charge for international students as well as Albertans.
As a full-time student, you are eligible for coverage as soon as you arrive in Alberta. However, you cannot make use of the coverage until you apply for your AHC card. Do this as soon as possible, once you arrive in the province.
• Processing time could take up to five days and up to six weeks if you submit your application by mail.
• Your card is sent to the address you provided on the application form.
• Once you receive your card, please check your full name and date of birth. Contact the AHCIP office if there are any mistakes on your card or if you have any questions.
• The expiry date for your health coverage is the same as your current study permit.
If you need to access healthcare before your card arrives, you will still be covered. Although you may be required to pay for services upfront, there will be a reimbursement process that you can access.
Designed to coincide with the waiting period for AHCIP, new international students are enrolled in guard.me More for their first semester.