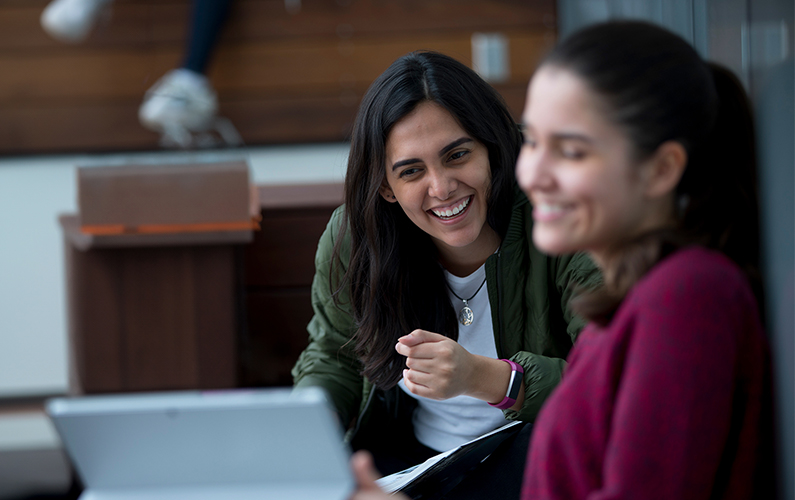 Student Success Advisors are trained and experienced in helping you navigate every step of your journey. Our goal is to support and empower you by providing you with the tools and strategies needed to navigate and transition through your academics, be here to answer questions about absolutely anything you need and help connect you to other campus resources and supports. We also offer engagement activities as we absolutely love just getting to know you and helping you meet new peers too!
We are committed to providing a supportive atmosphere that prioritizes exploration and supports both your educational and personal development. While we won't make decisions for you, we can help you discover and identify your interests, strengths, and goals to help you make informed decisions. Your time at UICC is a chance for you to explore yourself and the world, and we are here to help you reach your highest potential and have some fun along the way too!
At UICC our advising team wants to support you to explore all that Calgary has to offer. Throughout the semester we host a variety of activities, events, and trips to give you the chance to meet with other students, make friends, and explore the wonderful new community you are now a part of!
Here are some examples of trips you can participate in at UICC:
Visit the Calgary Tower for panoramic views of the city
Explore the Calgary Zoo and its variety of animals from around the world
Take a stroll through Prince's Island Park or the Devonian Gardens
Check out the Glenbow Museum for exhibits on art, history, and culture
Hike or bike along the Bow River pathway system
Attend a Calgary Flames hockey game or a Calgary Stampeders football game
Visit the Heritage Park Historical Village to learn about life in Western Canada in the 1800s and early 1900s
Take a day trip to Banff National Park
Check out the Events Calendar on the UICC Student Portal to see what activities will be happening throughout the semester and if you have ideas for activities you'd like to see happen come chat with an Advisor!
Advising Hours
Advising hours are 9 a.m. to 5 p.m. Monday to Friday.
For your appointment or to make an appointment, please drop by the Reception on the sixth floor of the South Campus tower building at 345 – 6th Avenue.
You may also send us an email to book an appointment.
Email
In addition to the resources and programming offered through both UICC and the University of Lethbridge, there are many other community-based organizations that offer important services and supports that are accessible to international students.
The advising team is here to support you with your overall well-being and students facing personal challenges are encouraged to come speak to the Student Success Advisors for support and referrals based on your specific circumstances.
Action Dignity (previously Ethno-Cultural Council of Calgary), facilitates the collective voice of Calgary's ethno-cultural communities towards full civic participation and integration through collaborative action.
Address: 915 – 33 Street NE
Phone: 403-263-9900
A collaboration among organizations to better serve and support newcomers who choose to make Alberta their new home
Address: #1200, 910 – 7th Avenue SW
Phone: 403-265-1120
This organization provides emergency food support to individuals and families in need. International students who are experiencing food insecurity can access their services.
This non-profit organization provides free legal advice and assistance to low-income individuals, including international students.
Phone: 403-234-9266
Student Legal Assistance (SLA) provides free legal information and representation to low-income residents of Calgary and the surrounding area. Operating since 1979, SLA is a non-profit, registered charitable organization that is staffed primarily by current University of Calgary law students.
Phone: 403-221-6637