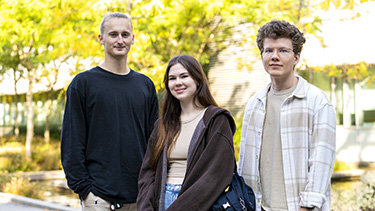 Foundation
University Transfer Program Stage I
University Transfer Program Stage I: Foundation
The foundation for your UICC education starts with UTP Stage I. This eight-month program bridges secondary school and undergraduate studies, making it the ideal first step towards your study goals. 
UTP Stage I consists of eight courses designed to prepare you for entry to university-level programs. Successful completion of UTP Stage I with the necessary grades assures you entry to of UICC's UTP Stage II program.
Intakes
January, May and September
Your Direct Pathway to a Degree at the University of Lethbridge
High school
Complete high school.
UICC - University Transfer Program I: Foundation
Complete your ULethbridge International College Foundation program. Min of 2.5 GPA must be achieved in order to progress from Foundation to UTP II.
UICC - University Transfer Program II
Complete your ULethbridge International College Calgary program. All programs should have 10 courses selected by the University of Lethbridge to ensure a successful transition to Year 2 at the University of Lethbridge.
2nd year at University of Lethbridge
Students will be guaranteed admission into the Bachelor of Management program in the University of Lethbridge with 30 credits (10 courses) toward their degree upon successful completion of the program transfer including:
CGPA of 2.50
Grade of C+ or better in all required pathway courses
All required courses based on their major and a minimum of 10 courses and 30 credits overall
Courses
Please see below for a sample of courses that may be offered in UTP Stage I:
Interdisciplinary Special Topics 101
Interdisciplinary Special Topics 102
Beginning with Algebra
Business Management
Foundations of Mathematics
Introduction to Computers and their Applications
Introduction to Computing Concepts and Algorithms
Introduction to Economics
Introduction to Mathematics
Introduction to Philosophical Reasoning
Introduction to University Writing
World Issues
70% Jump Rule
Students may be eligible to "jump" to UTP Stage II if in a single term they successfully complete four UTP Stage I classes with a minimum 70% in each course.
UTP Stage II
Upon successful completion of the UTP Stage I program, students will be eligible to progress to the UTP Stage II program, Business Management.